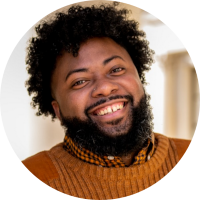 About Antione
Antione is the Founder and CEO of Best, AT Coaching! and Professor of Academic Literacies, at Anne Arundel Community College.
Location
Baltimore, Maryland
Fluent Languages
English
General Education
Antione earned his Ph.D. in Language, Literacy and Culture from the University of Maryland, Baltimore County. He also obtained his Master's degree in Higher Education from Morgan State University and Bachelor's degree in Psychology from Stevenson University.
Coaching Training
Coach training at Anne Arundel Community College through the 71-hour Engagement Coaching Training program. He is also ICF credentialed and holds an Associate Certified Coach status.
Coaching Themes
Personal Growth, Self Confidence, and Work-Life Balance
What is His Niche?
Antione is a life and engagement coach. He loves helping clients live a more fulfilled and engaged life.
What He Wants to Share about His Coaching Style
It is not uncommon to hear him say, "Let's explore that!" as Antione loves asking curious questions to help his students and clients reach their fullest potential while living a fulfilled and engaged life! He truly believes that everyone should have the opportunity to experience coaching.
How Long Has He Been Coaching?
3 years
Experience Coaching Youth and College Students
Antione has coached youth, college, students, and adults in various capacities.
Antione's Coaching Programs
Coaching with Antione
Coaching with Antione enables students and young professionals to elevate their confidence and lower their anxiety by gaining an awareness of their core values, understanding their strengths, and learning how to utilize those strengths to move toward their dreams.

Customizable coaching includes the following components:

45-minute coaching sessions (video or phone conducted twice per month)

Text/Chat-based support in between live sessions to stay on track (frequency to be agreed upon by coach and client)

Weekly motivational, inspirational, and thought-provoking content sent via email, text, and/or push notifications

Grow model philosophy – charting your course

Explore values, purpose, relationships, goal setting, and more

Career Modules – Strengths Finder Assessment

Job Mobility Data that enables better decision making for college majors and careers

Career Lab for supplemental insights and tips