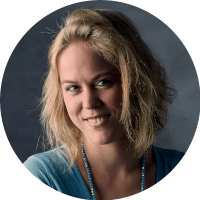 About Beatrix
My name Beatrix has its roots in the Latin word viator, meaning "traveler, voyager".
"Nomen est omen" as the saying goes and travelling has indeed been part of my life. My journey has been both outward and inwards to my own center. Before age 30, I have lived & worked in 5 countries between Europe and Asia. For the past 16 years I have been living in a mixed-culture marriage and I am raising two third-culture kids. Starting every new phase of my life (elementary school / studies / professional life / family) in a new country with a new culture and requiring to learn a new language has broadened my horizons, allowed me to gain perspective and gave me more freedom to dance to the beat of my own drum. On the way, I also discovered that we find more creative & compassionate solutions to our challenges and dilemmas when we embrace a yes/and-type of thinking instead of seeing the world with an either/or-approach. I have one foot deeply rooted in the realities of daily life and the world of the rational mind & business. The other foot is firmly planted in the realms of the heart, intuition and spirituality. Between these two, I seek to leave space for serendipity and being open to the unexpected.
Location
Singapore (South-East Asia)
Fluent Languages
English, German, French, Hungarian
General Education
Masters in Corporate Communication & Marketing Strategy
Coaching Training
Beatrix completed her professional coach training with the ICF accredited institute Leadership That Works and obtained her accreditation as Associate Certified Coach (ACC) by the International Coach Federation (ICF).
Coaching Themes
I support and challenge my clients with curiosity, courage and compassion, to get out of their comfort zone and question conventional thinking. My work empowers my clients to be mindful of their cultural blueprint, to create their own narrative and cultivate authenticity.
What is Her Niche?
Cultural identity. Culture tells us stories how things work, what the norm is and how they should be.The purpose of this conditioning is to maintain order. It is a pressure of the collective on the individual, limiting the "inside" from the "outside". Our cultural belief systems shape in a very unconscious way our values and beliefs and influence our thoughts and behaviors. Whatever we do, our cultural blueprint is always there as an undercurrent. A good comprehension of your cultural blueprint helps you understand who you are. In our conversations, I encourage you to disentangle from the cultural stories to create your own narrative. I invite you to get curious about your culture and society of origin and to question the information that has been handed down over generations. I want you to live your life from the inside-out instead of from the outside-in.
What She Wants to Share about Her Coaching Style
In my sessions, I do transformational coaching, which will guide my clients to a deeper level of inner work and create more sustainable changes that last even after ending the coaching journey. I fully focus on the person and not just on their goals or challenges: I will put my attention on their internal way of Being, their mindset ad their potential for growth. The positive effects of these shifts will continue beyond the coaching relationship and they will ripple through all their interactions with others. My method is underpinned by knowledge in neuroscience, somatic coaching and cultural competence.
How Long Has She Been Coaching?
4 years.
Coaching with Beatrix
Coaching with Beatrix enables students and young professionals to elevate their confidence and lower their anxiety by gaining an awareness of their core values, understanding their strengths, and learning how to utilize those strengths to move toward their dreams.

Customizable coaching includes the following components:

45-minute coaching sessions (video or phone conducted twice per month)

Text/Chat-based support in between live sessions to stay on track (frequency to be agreed upon by coach and client)

Weekly motivational, inspirational, and thought-provoking content sent via email, text, and/or push notifications

Grow model philosophy – charting your course

Explore values, purpose, relationships, goal setting, and more

Career Modules – Strengths Finder Assessment

Job Mobility Data that enables better decision making for college majors and careers

Career Lab for supplemental insights and tips