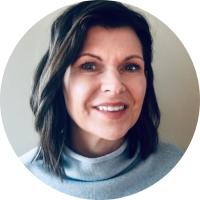 About Leanne
Leanne French is a Leadership Coach and Facilitator. She walks with clients as they step into self discovery and steps out into self expression.
Location
Calgary, AB, Canada
Fluent Languages
English
General Education
Graduate of Northern Alberta Institute of Technology – Marketing
Coaching Training
Certified Professional Co Active Coach – CPCC
Associate Certified Coach – ACC
Graduate of the Co Active Leadership Program
Certified for use of the Emotional Intelligence 2.0 Assessment – Eqi 2.0
Coaching Themes
Leadership, big pictures, critical conversations, growth, feedback and alignment
What is Her Niche?
Leadership and personal development.
What She Wants to Share about Her Coaching Style
Leanne is bold, truthful, loves to laugh and is a connoisseur of metaphor Bring your desire to learn, your humour and your creativity to the conversation. Together you will explore what's possible, design the path to get there and have some fun along the way.
Coaching with Leanne
Coaching with Leanne enables students and young professionals to elevate their confidence and lower their anxiety by gaining an awareness of their core values, understanding their strengths, and learning how to utilize those strengths to move toward their dreams.

Customizable coaching includes the following components:

45-minute coaching sessions (video or phone conducted twice per month)

Text/Chat-based support in between live sessions to stay on track (frequency to be agreed upon by coach and client)

Weekly motivational, inspirational, and thought-provoking content sent via email, text, and/or push notifications

Grow model philosophy – charting your course

Explore values, purpose, relationships, goal setting, and more

Career Modules – Strengths Finder Assessment

Job Mobility Data that enables better decision making for college majors and careers

Career Lab for supplemental insights and tips